2020 Resilience Conference
May 14, 2014
PIM's Director Karen Brooks will facilitate a side event of the IFPRI 2020 Conference, "Enhancing Resilience in African Drylands: Toward a Shared Development Agenda", organized by World Bank, Food and Agriculture Organization of the United Nations (FAO), and International Food Policy Research Institute (IFPRI). 
March 21, 2014
The Hunger Project invites 2020 Conference Participants to see resilience-in-action at the Debre Lebanos epicenter in Ethiopia – one of 120 epicenters across Africa, mobilizing nearly 2 million Africans in a process of gender-focused, integrated rural development.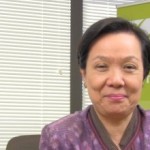 March 4, 2014
Emorn Wasantwisut, Vice President of International Relations and Senior Advisor of the Institute of Nutrition at Mahidol University, discusses resilience as an indicator of development and reflects on resilience-building needs and experiences in Thailand.
Latest from .INFO
September 16, 2014
Follow IFPRI's blog for the latest discussion surrounding Ghana's groundnuts - Breaking the cycle of contamination. Related Materials Strategies to Control Aflatoxin in Groundnut Value Chains (IFPRI Discussion Paper) Aflatoxins - finding solutions for improved food safety (2020 Focus Briefs) More publications from IFPRI eBrary
September 16, 2014
We've migrated the POSHAN blog to a new location.  Please visit us at http://poshan.ifpri.info where you can now find all the POSHAN materials, including the older POSHAN blogs and reports, and all our new and exciting materials on maternal and child nutrition in India.  You can also learn about our upcoming conference Together for Nutrition >> Read more
September 15, 2014
Recently published by IFPRI researcher  Valerie Mueller , Environmental Migration and Labor Markets in Nepal, takes a closer look at the impact of internal migration due to various shocks—particularly those that are weather-related—on Nepal's labor markets. For key findings, read more here...