2020 Resilience Conference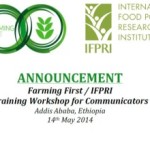 March 4, 2014
Farming First and IFPRI are organizing a one-day workshop for communicators on May 14, 2014 immediately prior to IFPRI's 2020 conference on "Building Resilience for Food and Nutrition Security" in Addis Ababa, Ethiopia.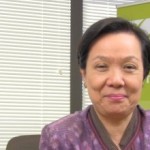 March 4, 2014
Emorn Wasantwisut, Vice President of International Relations and Senior Advisor of the Institute of Nutrition at Mahidol University, discusses resilience as an indicator of development and reflects on resilience-building needs and experiences in Thailand.
February 18, 2014
Hans-Joachim Preuss, Managing Director of Deutsche Gesellschaft für Internationale Zusammenarbeit (GIZ), describes some of the shocks that countries are facing and calls for learning from traditional forms of coping to build resilience at the community level.
Latest from .INFO
March 7, 2014
The theme for this year's International Women's Day (March 8th) is: 'Equality for women is progress for all.' The United Nations began celebrating International Women's Day on March 8, 1975. It has evolved into an occasion for reflecting on progress made, a call for change, and celebration of acts of courage and determination by women aroundread more
March 7, 2014
We are pleased to invite you to the next CGIAR-Uganda Research-seminar at IITA/IFPRI, Naguru East Road plot 15, Kampala on Wednesday 12th of March, from 14.00 to 15.00 PM 'Housing' and Female Friendship in Urban Uganda By Brooke Bocast, Senior Doctoral Fellow, Center for the Humanities, Temple University This paper examines the relationship between "sugarread more
March 6, 2014
 How can we create greater government and donor accountability for ending hunger and undernutrition? What is political commitment and how can we measure it? On Wednesday 19 February 2014 Transform Nutrition held a seminar which presented the Hunger and Nutrition Commitment Index (HANCI) which ranks governments on their political commitment to tackling hunger and undernutrition. The index wasread more