2020 Resilience Conference

December 16, 2014
-+*Prior to the 2020 conference, IFPRI commissioned an independent impact assessment report in order to determine the impact of the Conference on individual participants, professional discourse, organizational participants, and IFPRI itself.
October 27, 2014
-+*Resilience for Food and Nutrition Security, the newly released 2020 Conference book, edited by Shenggen Fan, Rajul Pandya-Lorch, and Sivan Yosef, assesses shocks, reviews approaches and tools, and identifies what works to build resilience.
Latest from .INFO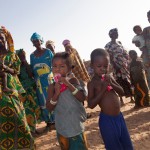 July 6, 2015
+-*This month on the Gender-Nutrition Idea Exchange, IFPRI Research Fellows Melissa Hidrobo, Tanguy Bernard, Rahul Rawat, and Agnes Le Port relate findings on how contract design can influence nutrition and milk production, mediated by intrahousehold gender dynamics. Designing an experimental incentive contract, the team measured the contract's impact on child nutrition outcomes as well as regularity of milk delivery. Decision-making power, associated with >> Read more
July 6, 2015
+-*Below are some current developments on agriculture in Africa: Agricultural Issues Players in Seed Industry Form Association An association of value chain players in the seed industry known as "The Seed Trade Association of Ghana (STAG)" has formally been launched to promote the interest of its members.STAG is an association of limited liability private commercial >> Read more
July 6, 2015
+-*Access to markets is challenging for smallholders who may not be able to compete with larger operations that can provide firms with consistent quantities of high-quality products.