2020 Resilience Conference
May 14, 2014
PIM's Director Karen Brooks will facilitate a side event of the IFPRI 2020 Conference, "Enhancing Resilience in African Drylands: Toward a Shared Development Agenda", organized by World Bank, Food and Agriculture Organization of the United Nations (FAO), and International Food Policy Research Institute (IFPRI). 
March 21, 2014
The Hunger Project invites 2020 Conference Participants to see resilience-in-action at the Debre Lebanos epicenter in Ethiopia – one of 120 epicenters across Africa, mobilizing nearly 2 million Africans in a process of gender-focused, integrated rural development.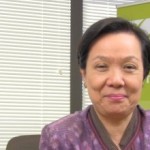 March 4, 2014
Emorn Wasantwisut, Vice President of International Relations and Senior Advisor of the Institute of Nutrition at Mahidol University, discusses resilience as an indicator of development and reflects on resilience-building needs and experiences in Thailand.
Latest from .INFO
October 24, 2014
The Nigerian Federal Ministry of Agriculture and Rural Development in collaboration with the Food and Agricultural Organization (FAO) celebrated the 2014 World Food Day between the 13th and 16th of October with a series of activities. On October 15th, a National Agricultural Show was held in Tudun Wada, Nasarawa State to showcase agricultural products and >> Read more
October 23, 2014
The Nigeria Strategy Support Program (NSSP) is pleased to announce the publication of Determinants of Agro-Dealers' Participation in the Loan Market in Nigeria by Professor Aderibigbe Olomola, Senior Economist/Consultant for NSSP in the International Food and Agribusiness Management Review (Vol. 17 Issue. 3). The publication was published in September 2014. Abstract: Agro-dealership financing deserves policy attention if agro-dealers >> Read more
October 22, 2014
Hello, and welcome to the IFPRI Uganda Strategy Support Program's weekly news digest. This weekly collection of recent news articles related to agriculture is compiled from online news sources. We also include links to recent publications on agricultural and policy-related research topics pertinent to Uganda. In news this week, we report on Food security brings >> Read more