Latest from .INFO
February 11, 2016
LANDac Annual International Conference 2016, organized by the Netherlands Academy on Land Governance (LANDac), will be held 30 June- 1 July, Utrecht,in the Netherlands. This year's theme is Large-scale land acquisition in the context of urban sprawl and climate change: Linking the Rural and the Urban The conference will focus on the following types of 'urban >> Read more
February 10, 2016
Blog written by Pete Shelton, IFPRI. Originally posted on IFPRI.org. Getting the right nutrition in the period between a child's conception and his or her second birthday−the so-called 1,000 day window−can have profound impacts on the child's ability to grow, learn, and become a productive member of society. A growing body of research demonstrates that >> Read more
February 10, 2016
This story originally published by the NewSecurityBeat blog and featuring the Collaborating for Resilience initiative tells what structured efforts to create inclusive dialogue can do to contribute to more equitable resource management and more resilient livelihoods in the communities fraught with conflict.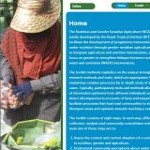 February 10, 2016
A new online toolkit and accompanying report, produced by ​two Dutch development agencies, SNV and Royal Tropical Institute (KIT), offers important guidance on how and why to address undernutrition with gender-sensitive agriculture interventions. The toolkit aims to integrate agriculture and nutrition interventions, and add a strong focus on gender to strengthen linkages between nutrition, agriculture, and >> Read more
February 9, 2016
The following post, by A4NH-IFPRI collaborator Hitomi Komatsu, was originally published on the Agrilinks site. Malnutrition is a severe problem, especially in poor households in developing countries. Many families are not well nourished because they do not have access to nutritious and diverse diets. Studies have shown that one way to improve nutrition among rural >> Read more
February 9, 2016
The International Food Policy Research Institute (IFPRI), the Eurasian Center for Food Security, the World Bank and two IFPRI-led CGIAR Research Programs - Agriculture for Nutrition and Health (A4NH) and Policies, Institutions, and Markets (PIM) - are organizing a conference on the linkages between climate change, agriculture, food systems, social safety nets, and nutrition.