Latest from .INFO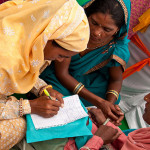 May 27, 2016
For gender research, qualitative methods can be particularly helpful in illuminating how men and women view their lives. The new PIM/IFPRI discussion paper by Deborah Rubin describes the use of qualitative approaches to illuminate gender relations in agricultural development research and project implementation.
May 27, 2016
As part of the Global Futures and Strategic Foresight (GFSF) project funded by the CGIAR Research Program on Policies, Institutions, and Markets (PIM) and the Bill and Melinda Gates Foundation, the International Maize and Wheat Improvement Center (CIMMYT) is organizing a three-day workshop titled: How can we take biotic stress into consideration with crop growth modelling in maize and >> Read more
May 27, 2016
GReCEST的初始成员为来自世界各国的31家智库型研究机构。它是在"全球南南合作智库网络联盟"的框架下成立的第一家研究联盟。
May 27, 2016
Bina Agarwal, Editorial Board member of Feminist Economics and former President of the International Association for Feminist Economics, has been appointed officer in the Ordre du Mérite Agricole (Order of Agricultural Merit) by France. This prestigious award is given for outstanding contributions to agriculture, and is rarely bestowed upon non-French nationals. To celebrate the recognition of her work, Taylor Francis has >> Read more
May 27, 2016
Interesting reads from fellow researchers The first blog "Land tenure and livelihoods: what's the connection?"discusses preliminary results from CIFOR global comparative study on forest tenure reforms and shows that land title is not enough to improve livelihoods without facilitating other support structures or systems. The second blog by Cheryl Doss highlights the lack of data on >> Read more
May 26, 2016
Interested in learning more about the upcoming book, Nourishing Millions: Stories of Change in Nutrition? Take a look at the flyer to see the stories highlighted in the book.