Latest from .INFO
June 29, 2016
Edited by Stuart Gillespie, Judith Hodge, Sivan Yosef, and Rajul Pandya-Lorch. In recent years, the world has seen unprecedented attention and political commitment to addressing malnutrition.
June 28, 2016
Nourishing Millions: Stories of Change in Nutrition is now available! The book explores what works in nutrition, what does not, and the factors that contribute to success. Chapters highlight programs and interventions addressing immediate and underlying drivers of malnutrition as well as country experiences with nutrition improvement and the role of nutrition leaders. An eight-page >> Read more
June 28, 2016
Nourishing Millions has developed a set of PowerPoint slides and classroom discussion questions to accompany the book. The PowerPoint provides key messages from each chapter and can be downloaded as a 100-slide set or as smaller slide sets that correspond to each chapter. The classroom discussion questions are an excellent tool for educators looking to >> Read more
June 28, 2016
Two key communicator resources are now available in the lead up to the US launch of Nourishing Millions on June 29. The social media toolkit provides key messages from the book, links to resources, draft tweets, and posts for other social media platforms including Facebook and LinkedIn. A press release is also available for distribution. >> Read more
June 28, 2016
June 14, 2016 was the launch of the 2016 Global Nutrition Report—an annual assessment of countries' progress in meeting global nutrition targets and commitments. The Report aims to make it easier for governments and other stakeholders to actually make high impact commitments to end malnutrition in all its forms. It is also a key tool >> Read more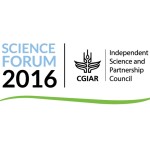 June 28, 2016
In this video recorded at this year's ISPC Science Forum 2016, Karen Brooks, director of the CGIAR Research Program on Policies, Institutions, and Markets (PIM) identifies several research-based pathways to rural prosperity, including direct income effects via new technologies and indirect economy-wide effects resulting from greater agricultural production.